Gene Stallings
Head Coach of the 1992 NCAA Champion Crimson Tide Football Team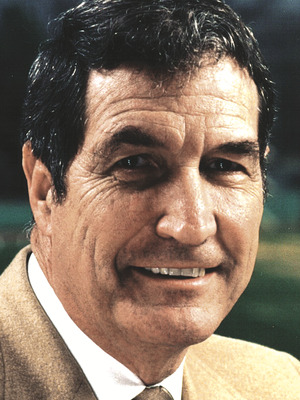 Gene Stallings Bio
Gene Stallings' coaching legacy has impacted thousands of athletes and millions of fans. Aside from football, he is philanthropist and highly-awarded supporter of special needs individuals.
A native of Paris, Texas, Gene Stallings, was hired as Head Football Coach at The University of Alabama on January 11, 1990. In only his third season, Stallings and staff produced Alabama's first undefeated regular season since 1979 with a 12-0 record. The team proceeded to defeat Miami in the Sugar Bowl and capture the national championship.
Prior to his arrival at Alabama, Coach Stallings was Head Football Coach of the NFL's St. Louis Cardinals. During Coach Stallings' tenure, the Cardinals moved to Phoenix in 1988. Ultimately, he led the Cardinals for four years.
Prior to his stint with the Cardinals, Coach Stallings was a member of Tom Landry's Dallas Cowboys coaching staff. During his years there, Dallas won seven division titles, three conference championships and the 1978 Super Bowl.
For seven years Coach Stallings was Head Football Coach of his alma mater, Texas A&M. Coach Stallings spent his collegiate playing days under Coach Paul Bryant at Texas A&M and was one of the Aggies who endured the now famous Junction training camp in 1954.
Stallings has received the Dallas Father of the Year Award, the National Boys Club Alumni of the Year Award, has been elected to the Texas A&M Hall of Fame and serves on the Board of Regents, elected to the Texas Hall of Fame, the Alabama Sports Hall of Fame, and has been named to a presidential committee by President George W. Bush.
The Stallings family was honored as the Family of the Year by the Tuscaloosa Association of Retarded Citizens for their sponsorship of an annual charity golf tournament which raised money for the association. The family was honored once again for their generosity when the Rise program, located on Alabama's campus, named its new building the Stallings Center. The playground was dedicated recently and was named in honor of the late John Mark Stallings. Rise prepares developmentally disabled infants, toddlers and preschoolers for the public school environment by integrating them with non-disabled peers.
Coach Stallings and his family now live in Paris, Texas.