Devon Harris
Three-Time Olympian with the Original Jamaican Bobsled Team; Helping Audiences Visualize Success with an Olympic Mindset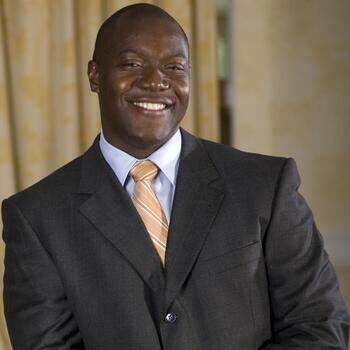 Devon Harris Bio
Every desire, every worthwhile goal, every dream that you have in life is sitting on its equivalent of a 650lb bobsled. In order to overcome inertia, and make audacious goals a reality, you must launch with maximum effort and then continue to push forward with deep intention, and focus. As with a bobsled athlete, when you begin to make steady progress towards your goals you must maintain the intensity. This builds momentum and gives you the best chance to reach your full potential and beyond.
Three-time Olympian Devon Harris knows the power and pain of overcoming inertia and pushing beyond. Raised in a violent ghetto in Jamaica, he could have allowed his environment to keep a chokehold on his life, but he learned how to push past the gangs and drugs by using the power of visualization to imagine greatness. His vision ultimately manifested in a life that took him from the ghetto to the prestigious Royal Military Academy Sandhurst in England (which graduated such luminaries as Sir Winston Churchill and King Hussein of Jordan), to becoming a three-time Olympian with Jamaica's original bobsled team. It was Devon's determined focus and persistent vision to achieve something greater that carried him farther than those who gave in to their destructive environment.
Devon Harris moves audiences to greatness by giving them passionate and practical guidance to push beyond their limiting beliefs, embrace the visionary discipline of an athlete and internalize the tactics of a trained military officer to achieve any goal. They leave more focused on their own goals, inspired by a renewed sense that they can attain higher levels of personal and team achievement.