Premiere Exclusive
Tanmay Bakshi
TED & Keynote Speaker, AI/ML Systems Architect, Author and Honorary IBM Cloud Advisor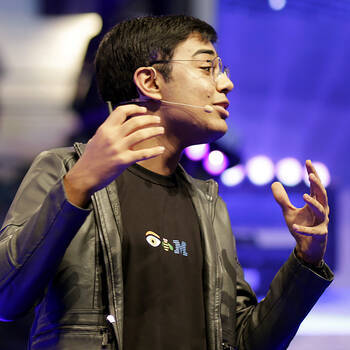 Tanmay Bakshi Text Reviews
Tanmay possess a level of intelligence far beyond his years - offering an
invaluable learning experience - he also commands the room with a maturity
and enthusiasm rarely seen, leaving audiences in awe and feeling inspired - as
well as having some choice words for their children.
I can't recommend Tanmay enough. The only issue I now find myself with is
trying to find other speakers who can offer even 50% of what he does.
Jason Cenamor, Co-Founder & President - CAMSS World LLC
I have known Tanmay Bakshi for close to 8 years. In that time, I have watched him grow from a budding tech genius. . . into full-grown tech genius. No exaggeration. We produce corporate events, and I can remember working with Tanmay when he was a young teenager, 12 years old, at a huge IBM Conference. He blew me - and our IBM Executives - away with his knowledge, his expertise, as well as his composure and his confidence while keynoting on-stage. I knew then that he was destined to be a technology superstar. Move over Mark Zuckerberg and Elon Musk. Here comes Tanmay Bakshi. I cannot say enough good things about this young man. I recommend him highly.
Mark Felix, Noise Maker, Director Entertainment Services - Drury
Tanmay Bakshi has been recognized in the legislative assembly of Manitoba, Canada at the age of 12. His keynotes transcend the traditional boundaries of technology. Tanmay's talk on creativity and AI technology, their intersection and wider impact on society, which he delivered as keynote speaker at the Creative Foundation's 20th anniversary at the tender age of 15 left an indelible impression on the Hon. Lt. Gov. of Manitoba, and drew a standing ovation from all the attendees. One does not need to be tech-savvy to appreciate, be inspired and garner an intuitive comprehension of technology from his discourse.
Yisa Akinbolaji, Chairman & Founder - Creative Foundation Inc.