Lee Cockerell
Former Executive Vice President of Operations for the Walt Disney World Resort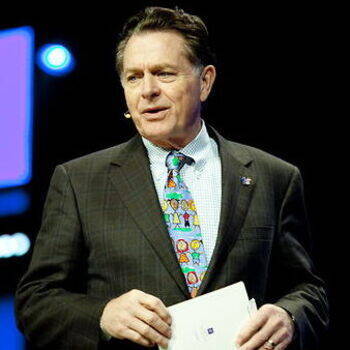 Lee Cockerell Bio
Lee Cockerell retired as the Executive Vice President of Operations for the WALT DISNEY WORLD Resort in Lake Buena Vista, Florida, a position he held for ten years. His responsibilities encompassed a diverse mix of operations, which included 20 resort hotels with over 24,000 Guest rooms, 4 theme parks, 2 water parks, 5 golf courses, a shopping village & nighttime entertainment complex, a sports & recreation complex, and the ancillary operations support functions. The Resort serves millions of guests each year and employs 65,000 Cast Members.
Lee joined the Disney organization in July 1990 as Director of Food and Beverage and Quality Assurance for the Disneyland Paris hotels. Prior to joining the Walt Disney World Co., he spent seventeen years in various executive positions with the Marriott Corporation and eight years with Hilton Hotels.
Lee has served on the Heart of Florida United Way Board for six years including being the Chairman of the Board and a member of the Executive Committee and as Campaign Chairman for Central Florida. Lee served as a member of the Board of Trustees for the Culinary Institute of America in Hyde Park, NY; a member of the Board of Directors of the Production and Operations Management Society (POMS) and in 2005 Governor Jeb Bush appointed him to the Governor's Commission on Volunteerism and Community Service where he served as the Chairman of the Board.
In 2008 Governor Brad Henry of Oklahoma named Lee as a Creative Ambassador to assist the state in leadership and business development.
Lee's book, Creating Magic 10 Common Sense Leadership Strategies From a Life at Disney is now available in 14 languages. His iPhone and Android Creating Magic Leadership and Coaching OnThe Go App gives a dose of daily advice on how to be a great leader and manager and how to provide world class customer service. Lee's Lessons in Leadership blog teaches readers how to move from good to great and great to greater.
Lee's second book, The Customer Rules...The 39 Essential Rules for Delivering Sensational Service was published Marchin 2013 and is currently available in 10 languages. His third book, Time Management Magic How To Get More Done Every Day will be published on November 25, 2014.
Lee and his wife Priscilla reside in Orlando, Florida. Lee enjoys teaching leadership, management and service excellence seminars, traveling, dining out and most of all spending time with his three grandchildren, Jullian, Margot, and Tristan.