Johnny Cupcakes
CEO of the World's First T-shirt Bakery, Award Winning Entrepreneur & Brand Hysteria Expert, Top Innovator in Retail, Marketing, & Brand Loyalty.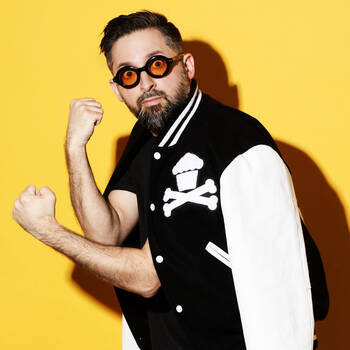 Johnny Cupcakes Text Reviews
Johnny was an excellent speaker --informative, funny and inspiring. His personal story and experience were interesting, and the broader relevance of following one's passion to achieve success!
Managing Director - Wieden+Kennedy
Johnny held the attention of every person in the room! Many members in the audience were long-time business owners who commented that even though they have been in business for years, they learned quite a bit from his presentation!
Vice President and Director - The Quincy Chamber of Commerce
At our annual company inspiration day, Johnny inspired me to have more fun with my company!
FREDERIC ROZ_E, CEO - L'OREAL Paris USA
Run - don't walk - to hire Johnny to speak at your event! The recipe is simple: mix equal parts incredible story and unbridled energy; add dashes of humor, creativity and passion; sprinkle with joyful nuttiness...and what you and your attendees are left with is an hour they will never forget. Pump up your own team; wow an external audience - there are so many settings where this man will ABSOLUTELY CRUSH IT
Rob Dunn, Sales Manager - STREAMLINE EVENTS, INC.
If you are looking for an out-of-the-box thinker that can engage seasoned professionals along with young adults through his road to success story, Johnny Cupcakes is your guy! We are still getting positive feedback! 5 STARS!
TABETHA FRANKLIN, VICE PRESIDENT OF MARKETING - MOBILOIL CREDIT UNION
We have worked with over 1,000 speakers over the last 12 years, and can safely say that Johnny Cupcakes is one of our favorites! Sincere, down-to-earth, motivational--a true pleasure to watch and a crowd favorite!
SHAWN PUCKNELL, DIRECTOR - FITC & NXNE INTERACTIVE
When Johnny Cupcakes spoke at Inc's GROWCO conference, I didn't know what to expect, but our people assured me he was a good speaker. That turned out to be a drastic understatement. Putting him on the agenda was one of the best decisions!
ERIC SCHURENBERG, EDITOR-IN-CHIEF - INC. MAGAZINE
Johnny's stories were entertaining and demonstrated his creativity and sense of fun. The audience was glued to their seats! We received a high amount of compliments about his presentation and style! Johnny Cupcakes has an amazing story, well worth hearing!
LOREN NALEWANSKI, FRANCHISING - MARRIOTT INTERNATIONAL
How could I have not known about Johnny Cupcakes before this week?! I am a fan for life! Excellent ideas to make your brand unique, connecting with clients and finding innovative ways present your product/service that resonates "fun" for your customers. High energy and super dynamic with clear messages that can be applied to any product, meeting or service!!
KIMBERLY DUNNEGAN, NATIONAL ACCOUNT DIRECTOR - VISIT NEWPORT BEACH INC.
With tales of entrepreneurial derring-do, Johnny Cupcakes speaks with passion, insight, and hard-earned experience. This is business building from the horse's mouth - not from some consultant's arse!
PAUL GASCOIGNE, CREATIVE DIRECTOR - MOMENTUM WORLDWIDE
What you must know is Johnny Cupcakes is a supreme storyteller. Engaging, funny, and real, the advice he imparts is relevant and practical to everyone, from students to top CEOs. I've never seen an audience so charged with passion post-event!
COURTNEY BECK, CREATIVE STRATEGIST - THE WORKS
Johnny's energy, passion, incredibly creative thinking and strong entrepreneurship skills would be a fit for so many audiences and industries!
ANGELA SMITH, HEAD OF EVENTS - ATLASSIAN - CHAIRWOMAN - CEMA
His attitude about business and his laser focus on the customer was spot on! Our theme was about going BIG and Johnny demonstrated this better than any keynote speaker, retailer, or innovator I have had the pleasure of observing!
ROBERT MCLEAN, EXECUTIVE VICE PRESIDENT - PROMOTIONAL PRODUCST ASSOCIATION INTERNATIONAL
Johnny was by far one of the most engaging keynote speakers we have ever had in the history of our 11-year IT Conference. His energy, sincerity and humor was just what we needed for our participants and sponsors. I would recommend Johnny for any conference!
JILL RAUSCH, PROJECT MANAGER - WORLD WIDE TECHNOLOGY
After Johnny "wowed" the group with his inspiring words, lines wrapped around the hall to get one of the limited edition custom shirts he made for our event. We sold out in under 90 minutes and had to place an additional order. In true Johnny fashion he stayed to greet everyone in line even those that didn't get a shirt. Our people are still talking about the event a year later and I often see the custom t-shirts around the country!
BART BURGER, EDUCATIONAL SERVICES - BPAA
His human to human perspective and marketing genius is something every business leader can apply to their organization. 10 out of 10 presentation that leaves you drooling for another bite.
John Michael Rosito, Customer Success Manager - Forrester
The moment I tuned into his session, I was captivated by his quirky vibe and enthusiasm! Virtual standing ovation for his session!
Cristina Carretero, Senior Product Marketing Manager - Rackspace
Johnny is the Willy Wonka of T-shirts and experiential marketing. His talks are fun, genuine, and chock-full of tweetable goodness.
Allen Bonde, VP and Research Director - Forrester
It was a pleasure to work with Johnny! We hired Johnny to provide the keynote address at our annual global supplier network conference of 400 attendees with participants from 30 countries. Johnny was directly involved in our planning for his role in the event. His message was informative, engaging, inspirational, and funny! Our client and audience loved him! We received 100% positive feedback! I would highly recommend Johnny as a keynote speaker for any event!
Shelly Roney, CMP Founder & President - Meeting & Event Resources
Johnny Cupcakes is the true definition of an entrepreneur. He not only has the creativity to break out of the box but has an underlying of what people want.
John Walker Director, Demand Marketing - PointClickCare