Ben Nemtin
Member of MTV's Hit Show, The Buried Life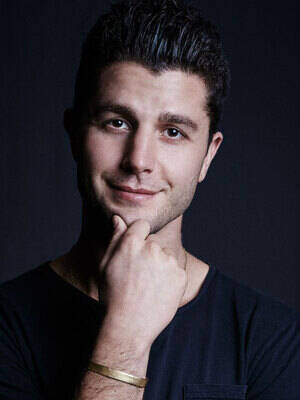 Ben Nemtin Text Reviews
Ben's storytelling and ability to connect with our audience was apparent from the minute he greeted our participants. Listening to his story made everyone in the room feel empowered and motivated to make a difference and be courageous in their own lives. Ben helped us realize that we as individuals and leaders have the ability to make a real impact and empower others to make that same impact not only professionally but in our everyday lives. The message was perfectly aligned with our theme and I had so many attendees say it was the best event to date. I would highly recommend Ben to anyone wanting to add that "WOW" factor to their event.
HR Strategic Advisor - FedEx Services
The event was incredible! We were so pleased with our decision to bring in Ben. The audience was really engaged and there was a long line for autographs. We had a lot of positive feedback. Thanks so much for working on this engagement with us. It's been a very pleasant experience. We will definitely include ESB in our search for next year's keynote!
Executive Assistant - WorkCompCentral
I just wanted to pass on my praise for Ben. He was just wonderful, a great message, speaker and wonderful person. You were correct we loved Ben. I can't wait to see our results to our survey when they come in. Thanks again for everything, we have a very successful meeting.
Event Director - Maryland Hospital Association
Ben did an excellent job of sharing his story in a light and lively way. We have a group that varies in age from 20 to 80 and all were entertained. I have been going to this meeting for over 25 years and the audience participation was far and above greater than any I have ever seen.
Chairman of the Board - Arkansas Hospital Association
I like the way you help folks. Keep doing what you're doing.
Barack Obama - 44th President of the United States
The chat was exploding with so many people inspired!
Sarah Potts, Senior Speaker Coordinator - Northwestern Mutual
I think what you're doing is truly so inspiring.
Oprah Winfrey
Ben's presentation is more than a keynote, it is a culture shifting experience.
Garry Spence, Senior Vice President - Lincoln Financial Group
Ben hit it out of the park, you felt like we were in the room with him. Phenomenal.
Donna Bevilacqua, Director of Communications and Community Relations - Cooperative Credit Union Association
Since Ben's virtual keynote, a number of our team members have accomplished their goals and are helping each other through acts of service.
Darcy Boles, Head of Employee Experience - TaxJar
We worked with Ben on our first-ever partner community virtual event. In the wake of COVID-19 uncertainty, Ben nevigated this new virtual world with us, adapting his live presentation to a webinar format that had everyone engaged until the very end. We would highly recommend him as a virtual keynote.
Meredith Bunker, Director of Partner Marketing - LogMeIn
Ben's virtual keynote not only captivated the attention of our audience but evoked intense emotional responses that left everyone feeling motivated and inspired. I have never experienced a keynote speaker so seamlessly weave in small, but meaningful, tie-ins to our business and industry without feeling forced or unauthentic.
Emma Bica, Event Marketing - Trimble