Avik Roy
Opinion Editor at Forbes, and Senior Fellow at the Manhattan Institute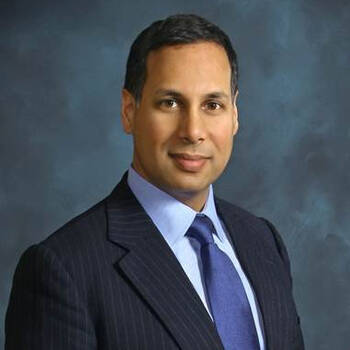 Avik Roy Bio
Avik Roy is a journalist, editor, researcher, policy advisor, political strategist, and investment analyst. He offers a thoughtful perspective on policy, including health care policy, and economics that combines strong backgrounds in finance and medicine and is widely praised by both the right and the left.
Roy has also served as advisor on policy to three Republican presidential candidates. Avik Roy was a health care policy advisor to Mitt Romney's 2012 presidential campaign. He was the senior advisor to Rick Perry's 2016 campaign, for whom he was the lead author for major policy speeches and developed plans to address persistent black poverty, reform Wall Street, and combat radical Islamist terrorism. After Rick Perry withdrew from the race, Roy joined Marco Rubio as a policy advisor.
As Policy Editor at Forbes, he writes on politics and policy, and manages The Apothecary, the influential Forbes blog on health care policy and entitlement reform. He is the author of Affordable Health Care for Every Generation: A Patient-Centered Plan for Universal Coverage and Permanent Fiscal Solvency and How Medicaid Fails the Poor. An early critic of the Affordable Care Act, Roy is a passionate believer in the conservative case for universal coverage, the idea that markets and competition can bring quality health care to every American.
Roy is Co-Founder and President of the Foundation for Research on Equal Opportunity, a think tank focused on expanding economic opportunity to those who least have it.
Avik Roy's research interests include the Affordable Care Act, universal coverage, entitlement reform, veteran's health care, international health systems and FDA policy. Roy was Senior Fellow at the Manhattan Institute for Policy Research from 2011 to 2016.
Roy was formerly an investment analyst and portfolio manager for Bain Capital and J.P. Morgan, and was Managing Partner at the hedge fund Mymensingh Partners.
How Medicaid Fails the Poor. In this important book, Avik Roy explains how Medicaid's clumsy design and perverse incentives limit access to physician care while delivering poor health outcomes. Roy proposes using private insurance instead to provide a lifeline to Americans with no other healthcare options.
Credentials
Co-founder and president of the Foundation for Research on Equal Opportunity
Advisor to three presidential candidates on policy
Opinion Editor, Forbes, writing on politics and policy. Manager of The Apothecary, Forbes blog on health care policy and entitlement reform
Author of How Medicare Fails the Poor, Transcending Obamacare: A Patient-Centered Plan for Near-Universal Coverage and Permanent Fiscal Solvency, and The Case Against Obamacare
Former Senior Fellow, Manhattan Institute for Policy Research
Contributor to The Wall Street Journal, The New York Times, The Washington Post, USA Today, The Atlantic, National Review, The Weekly Standard, National Affairs, and Health Affairs, among other publications
Policy advisor, Board of Advisors for the National Institute for Health Care Management Foundation, and Concerned Veterans for America's Fixing Veterans Health Care Taskforce (co-chair)
Frequent guest on television news programs, including Fox News, Fox Business, NBC, MSNBC, CNBC, Bloomberg, CBS, PBS, and HBO
Former investment analyst and portfolio manager, Bain Capital, J.P. Morgan, and other firms
Educated at MIT and Yale University School of Medicine