Tony Hoffman
Olympic Coach, Former Pro BMXer, Person In Recovery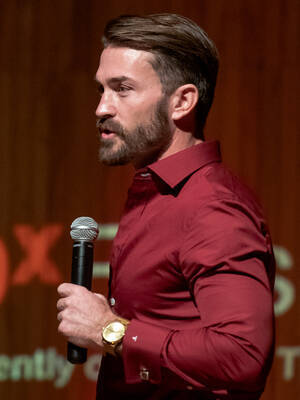 Tony Hoffman Text Reviews
A powerful message delivered in the language of the heart, which reaches youth, teens, and adults alike.
Richard Brueckner, Esq, Assistant State's Attorney - Heroin Reduction Strategist
It was at that moment that I sat back and listened, my choices became the most important thing in my life.
Josephine Organista-Mojica - Wicomico High School
Tony Hoffman is the most remarkable storyteller I've ever heard.
Din Thomas - UFC Fighter & WEC Fighting Champion
The most powerful part of this presentation was that wasn't a lecture, it was a life story.
Rees Warne, Principal - Gateway High School
It's a story that confronts students with the same struggles they deal with every day and the ending message gives them hope.
Casey Olson - Clovis Unified School District
I don't think I have ever seen the kids so captivated by a speaker!
Gary Johnson - Social Science Teacher
Tony was able to speak to students at their level and bring his story to life. Tony told the students "my life is an open book" and allowed students to ask him extremely difficult and personal questions. His positive impact on students was felt by all who attended.
Carl McCready, Principal - Sault Area High School
I can't imagine that anyone would have been better. Very happy with his presentation.
Joe Claxton - F.A.N. Families Against Narcotics,
We had a great experience with Tony! He was excellent in sharing his story and being candid and friendly with the students. He was an absolute joy to get to know and we thoroughly enjoyed having him.
-- Eastern Connecticut State University
Tony's engaging presentation truly impacted the middle and high school students' perception about drug use and abuse. He grabbed and held on to their attention as he educated more than 2,000 students about the stark reality of how addiction completely took over and almost destroyed his life.
Westmoreland Drug & Alcohol Commission, Inc.
Tony is a unique speaker--he is not the type of person that the students look at and immediately think is going to lecture them about not using drugs, and the best part is that they are correct. His impact comes from telling his story and the crutch of his argument is about the choices you make in life.
Buchanan High School
Tony is Awesome, he was a pleasure to work with and his message was impactful.
Hampden Sydney College
His presentation was both inspirational and entertaining and far surpassed our expectations.
Comprehensive Addiction Program
He told a great story about the effects of even the simplest of choices in life. He made me truly realize how lucky I am to be a student-athlete at ECU. I walked away truly grateful for what I have been blessed with, but conscious that it could vanish in an instant.
Charlie Yorgen - RCU Baseball
The feedback regarding Tony was so incredibly positive. The students *loved* him and said he was the best speaker who put all the other public speakers to shame!
Laura Trojan - Country Day School
Tony's story is moving and powerful. Never have I seen our students so engaged. All high school students need to hear his story.
Mike Grossman - Liberty High School
Tony spoke to students in a way that made a real connection. He spoke about marijuana as a gateway drug in a way that made sense and that (students) didn't dismiss.
Bobby VanCura, 2nd Sheriff - Rockland County, NY