Premiere Exclusive
Tanmay Bakshi
TED & Keynote Speaker, AI/ML Systems Architect, Author and Honorary IBM Cloud Advisor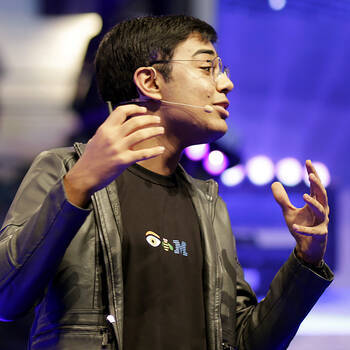 Tanmay Bakshi Bio
Tanmay Bakshi, a 19-year-old AI prodigy and technological savant, defies conventions with his extraordinary achievements that reach far beyond his age. Wearing numerous hats — Author, TED & Keynote Speaker, Google Developer Expert for Machine Learning, AI & Software Architect for IBM Watson Apps, Instructor at the University of Winnipeg, Visiting Professor at iUniversity Tokyo, Media Personality, and YouTuber — he's a force in the technology sector.
Tanmay's passion lies in using technology as a tool to drive positive global change. His goal? Empowering over 100,000 individuals to leverage the benefits of technological advancements, fostering a global community of innovators and change-makers.
His journey with coding began when he was just five years old. By nine, he had published an iOS app, earning recognition from The Toronto Star as their Newsmaker of the Year 2013 — an accolade indicative of his prodigious talents. Since then, he has shared his insights with over 300,000 executives, developers, and students in more than 30 countries, speaking at high-profile organizations such as the United Nations, Apple, Walmart, Microsoft, Google, Amazon, HSBC, KPMG and Shell.
In addition to his speaking engagements, Tanmay has made significant contributions to the field of AI and technology. Notably, he has been instrumental in developing AI techniques to revolutionize the drive-thru experience at McDonald's as part of his work with IBM. He has also created applications that enhance songwriting capabilities, identify individuals through their heartbeat, and decode mental states using EEG data.
Tanmay's impact has been recognized globally, with prestigious awards and accolades. Bloomberg Businessweek named him Young Entrepreneur, the Mohammed Bin Rashid Al Maktoum Knowledge Foundation honored him with the Knowledge Ambassador Award, and he received the Twilio Doer Award, the Life Mentor Award from the Creative Foundation, and the Young Edison Award from Shanghai TV.
His achievements have garnered attention from prominent international media outlets such as Forbes, The Wall Street Journal, The New York Times, CNBC, and CBC. These platforms have recognized his innovative work and the potential he holds to shape the future of technology.
Driven by a deep desire to create lasting positive change, Tanmay Bakshi remains committed to using his extensive knowledge to transform the world through technology. With his remarkable expertise and unwavering dedication, he is poised to continue making significant contributions to the field and inspiring others to harness the power of technology for the greater good.