Susan Ershler
History-Making Mountain Climber, Business Executive, International Speaker and Bestselling Author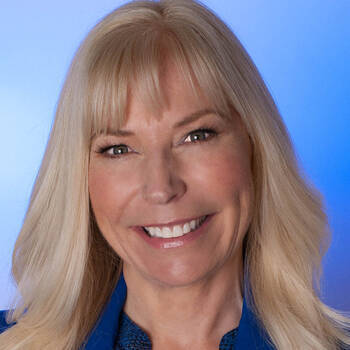 Susan Ershler Text Reviews
Susan delivered her inspiring presentation to over 300 of our sales managers and the results were outstanding. Susan's message proves that any goal, no matter how difficult it may be, can be achieved through proper planning and determination.
Aflac
Sue weaved a captivating story of reaching summits and exceptional sales goals that inspired our customers and partners to take on bigger challenges and face them head on. She gained instant credibility with the audience, having walked in our shoes.
Kim Hawley, CEO - Attenex Corp.
Susan's ability to relate the challenges, risks and rewards of climbing to the business world were invaluable. As we set out to reach new peaks, we will reflect upon her words of encouragement and structured approach to reaching our goals.
IBM
Sue's presentation was an outstanding story where we shared the excitement of her journey to the summit and how this experience is related to our business, specifically in terms of setting goals and teamwork. She is truly an inspiration for all of us!
Microsoft
The feedback from our customers was overwhelmingly positive, citing both an entertaining and aspirational experience. Susan has the highest recommendation from us.
Westinghouse
Susan's presentation was extremely well-received by our management team. It was very beneficial as she took them through her goal setting process, gave them a good idea of the discipline required. Perhaps the most important part was her determination.
Safeco
I strongly recommend Susan to all of your clients.
Fluke-Danaher
Excellent speaker, inspiring, motivational and relevant . . .
Blue Cross (Premera)
Thanks for an absolutely fantastic presentation at our Luncheon. As they were leaving, our guests one after another kept saying, 'This was the best presentation ever.' So we're very pleased . . .
Chief Executive Officer - Bank Calumet
I wanted to tell you how many great comments I received about your presentation. Your boundless enthusiasm only adds to a truly great story & inspirational message. If you ever need a reference for anyone considering your presentation, have them call me.
Managing Principal - DLR Group
Your presentation was absolutely fantastic, and you made a lot of friends in Olympia. I have to tell you that you really made my day as program chair because I have been receiving compliment after compliment about what a great program I secured.
Chief Justice - Washington Supreme Court
Susan's client list comprises several Fortune & Global 500 corporations: Aflac, AT&T, Bellsouth, Boeing, Chevron Texaco, Cisco Systems, Danaher, FedEx, IBM, Lockheed Martin, Microsoft, Nike, Novartis, Northwestern Mutual, Qualcomm, Safeco, Shell, UBS, Unilever, and Wells Fargo, as well as, mid-size corporations to start ups. Adidas ADP Agile -Software Developers Aflac (Multiple Events) American Business Women's Association American Heart Association American Library Association Anacomp Assurex Global Attenex Corporation AT&T Autotrader.com Avid Technologies Avnet (HP) Axcan Scandipharm Bank Calumet Banner Bank BellSouth Biomet3i Blue Coat Systems Boeing (Multiple Events) BRG Sports (Bell, Riddell, Giro) Business Clubs America Capital Analysts, Inc. CB Richard Ellis CEMA Chevron Choice Advisory Services Cisco Systems City of Tacoma - Metro Commercial Real-estate Women CCFA - Crohn's & Colitis Foundation Crown Capital Securities Daikin Dartmouth-Hitchcock Medical Deloitte (Multiple Events) Dennis Uniform Department of Revenue Department of Transportation Destination Hotels DLR Group doTERRA Eli Lilly Farm Credit Council Services FedEx Office (Multiple Events) Fluke - Danaher FSC Securities Guardian Life Insurance Graphic Arts Center Hewlett Packard (HP) Hindu Society of North Carolina Honkamp Krueger HUB International IBM ICODE iDirect I-Many IEX, Corporation Ingram Micro Investools JEA Senior Living Keane Leith, Inc. Leith Toyota Lockheed Martin & Deloitte Consulting M&T Bank Magma Design Automation Mass Mutual MDS Mercer Island Schools Moss Adams Municipal Employees Retirement System MetLife (Multiple Events) Miller Heiman Microsoft (Multiple Events) MSX International (Multiple Events) MSX International (Germany) Moss Adams Moving Comfort NAPPS National Association Black Accountants Nike New York Life Northwestern Mutual Novartis & IBM Consulting One Economy Opis Management Resources Ortho-McNeil Oracle (Germany) Pacific Edge Software Pennsylvania Lottery PDRMA PEMCO PNC Bank Premera Blue Cross Profiles International Prostrakan (Pharma) Prudential Fox & Roach/Trident QUALCOMM Reckitt Benckiser (Israel) Roche Royal Bank of Scotland (RBS) Safeco Insurance Salix Pharmaceuticals SAS SCENTSY Scientific Games Seattle Design Center Shell Exploration & Development Society of Plastics Spiration Standard & Poor's Surf Summit - Board Retailers Association Thales Tandberg Telecommunications Association Unilever United Healthcare United Federal Credit United States Navy University of Michigan University of Washington University of Wisconsin UBS - United Bank of Switzerland Visa USA Vistakon, a Division of Johnson & Johnson Washington Fire Commissioners Washington State Hospital Association World President's Organization (WPO) Wells Fargo Westinghouse World Sign Associates Women in Financial Services Women in Nuclear Yankee Candle Company
Past client list
We thoroughly enjoyed having you speak to our Sales and Marketing teams this week. Thank you for taking the time to understand our organization and personalize your message to those needs. The impact your discussion had on our group was immediate.
Shannon Scheiwiller, Vice President of Marketing - Ecova
You were quite the success with our audience. Meeting you and hearing your story gives me a renewed sense of self and focus. You change people. And that is something truly noble. Thanks again for everything.
Avid Worldwide Sales Kickoff