Neil Mylet & Ashlie Kolb
CEO of LoadOut & TV Entertainment Correspondent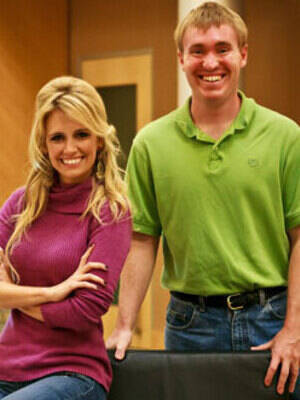 Neil Mylet & Ashlie Kolb Bio
Neil Mylet and Ashlie Kolb are two young entrepreneurs who grew up on Midwest farms with humble beginnings and are now pursuing their respective dreams in entertainment and technology. Neil is the Founder of LoadOut and Ashlie is a Nashville Entertainment Correspondent. Both are passionate individuals who have shared many of the same initial challenges and obstacles on their road to becoming young entrepreneurs. They speak together on topics such as innovation, entrepreneurship, global technology, and making your dreams a reality.
Ashlie is a popular personality on the nationally syndicated lifestyles show, The Better Show, out of New York. She is best known for her down-to-earth & fun-loving energy as the show's Nashville entertainment correspondent. More than just a country music expert, Ashlie brings insightful interviews that help connect fans to their favorite stars. She has interviewed everyone from Taylor Swift, Faith Hill & Tim McGraw and the legendary Dolly Parton. Being raised a farm girl, it's evident that Ashlie's Midwest roots have given her the work ethic she has today.
Neil is the founder of LoadOut, and serves as the Chief Executive. After graduating from Purdue, he assembled an experienced team comprising of people from across the world that also felt compelled to advance technology to transform the way agriculture works for people across the globe.
Besides working to pioneer LoadOut's revolutionary solutions for agriculture, you can find Neil driving a tractor, hauling grain, or doing a variety of other tasks on the farm. Although Neil is a bit of a geek for tech, he is even more passionate about doing the physical work on the farm - just like all his friends and neighbors.
In addition, Neil and Ashlie work together to launch a socially-focused initiative to stimulate rural entrepreneurship and innovation. As time permits, they hold town hall forums that bring people of communities together to discuss ways to encourage entrepreneurship and innovation - with special focus on youth and rural development.