Linda Ellerbee
Award-Winning Television Journalist and Breast Cancer Survivor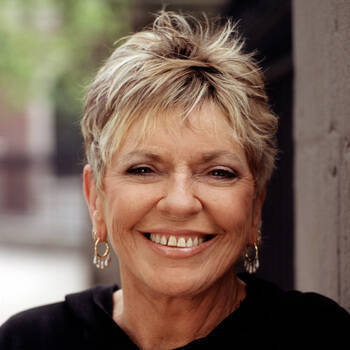 Linda Ellerbee Bio
Linda Ellerbee is an outspoken American television journalist who spent half her career reporting the news to adults and the other half explaining the news to children. An award-winning television producer, writer and anchor, best-selling author and sought-after speaker, Ellerbee's also a breast cancer survivor, mom, grandmother, and, as she points out, "one more proud, loud, storytelling, story-loving, nosy Texan."
Ellerbee began her career over 40 years ago in 1972 at The Associated Press. In 1973, she was hired to be an on-air reporter at KHOU in Houston, Texas. Six months later, she was offered a job at WCBS, New York, as the "hard news" reporter for the evening newscast.
In 1975, she moved to NBC (national) News where, as Congressional Correspondent, she spent years covering national politics.
In 1982, she pioneered the late-night news program NBC News Overnight, which she wrote and anchored with Lloyd Dobyns. Overnight was cited by the duPont-Columbia Awards as "possibly the best written and most intelligent news program ever."
In 1986, Ellerbee moved to ABC News to anchor and write Our World, a weekly primetime historical series. Her writing on Our World won her a national News & Documentary Emmy.
In 1987, Ellerbee and Rolfe Tessem, her partner, quit network news to start Lucky Duck Productions, a New York based company that produces news, documentaries and other specials for broadcast and cable.
Lucky Duck Productions began by producing documentaries for PBS. Then, in 1991, Lucky Duck began producing Nick News for Nickelodeon, which ran for 25 years -- longer than any other children's news program in television history. Nick News was watched by more children than watched all other television news shows put together and was known for the respectful and direct way it spoke to children about the important issues of our time. Nick News earned honors traditionally associated with adult programming. Among them: three Peabody Awards (including one personal Peabody given to Ellerbee for her coverage of the Clinton investigation), a duPont-Columbia Award and ten national Emmys for Outstanding Children's Program. Nick News also received the Edward R. Murrow Award for best Network News Documentary -- and made history as the first children's television program ever to receive this prestigious award.
For almost 30 years, Ellerbee and her work were seen all over the television universe, as Lucky Duck Productions also produced specials for ABC, CBS, HBO, PBS, Lifetime, MTV, Logo, A&E, MSNBC, SOAPnet, Animal Planet and TV Land, among others. When I Was a Girl, Ellerbee's series on WE tv earned her yet another Emmy.
All of Ellerbee's books for adults were best sellers. Her first book, And So It Goes (published in 1986), a humorous look at television news was a favorite among journalists. Her second book, Move On, published in 1991, contained stories about being a working single mother, a child of the '60s, and a woman trying to find some balance in her life. And her third book (published in 2005), Take Big Bites: Adventures Around the World and Across the Table, was a humorous account of her love of travel, talking to (and eating with) strangers, and, according to Ellerbee, "oh, just making trouble in general."
Her foray into books for children, an eight-part fiction series entitled Get Real (published in 2000) about middle school students who start a school newspaper, won her raves among young readers.
Among the many honors for Linda: In 2011, Ellerbee given the Lifetime Achievement Award for Children's Television at the annual Banff International Media Festival.
Also in 2011, at the annual Gracie Awards, Ellerbee received the Tribute Award, the highest honor given by the Alliance for Women in Media. On presenting the Gracie, former CNN anchor Aaron Brown said to a ballroom of a thousand women, "The two most important women in the history of television news are Barbara Walters and Linda Ellerbee. Barbara Walters made it possible for you to be on television news; Linda Ellerbee made it possible for you to be you on television news."
2016 marked the beginning of Linda Ellerbee's retirement from television. Ellerbee left television saying she was a "lucky woman." "I choose to go, and I go smiling. I've had a great time. And thank you for asking, but, no, I don't intend to mellow." When Robin Roberts of Good Morning America asked Ellerbee what she would do now, Ellerbee quipped she was thinking of becoming a shepherd.
Shepherd or not, Ellerbee will continue her run as a popular and versatile speaker. She still travels thousands of miles each year, inspiring audiences with her insight, while filling banquet rooms and concert halls with laughter. They come to hear Ellerbee's trademark wit and wisdom on everything from how to survive corporate America with your values intact to how to survive breast cancer and live to laugh about it (also, she often speaks to medical groups concerning healthcare from a patient's point of view), and, in general, how to accept -- even embrace -- a changing world, perhaps even making a few changes yourself.
Although Ellerbee won most of television's highest honors, she says it's her partner, her two children and four grandchildren who've brought life's richest rewards. Her son, Joshua Veselka, is a journalist. Her daughter, Vanessa Veselka, is a novelist. Her grandchildren, Violet, Ruben, Gabriel and Milo, are noisy. Ellerbee lives in New York City and Massachusetts with Rolfe Tessem, her partner in life and work, and their two Greek rescue dogs, Daisy and Dolly.