Premiere Exclusive
Joe "Mr. D" Dombrowski
Comedian, Teacher, Actor, Public Speaker and Internet Sensation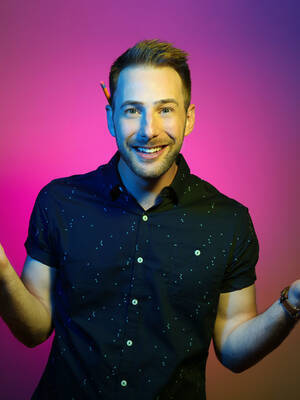 Joe "Mr. D" Dombrowski Bio
An educator giving a spelling test with imaginary words may not seem like the most traditional method of promoting learning, but then again, there isn't much that can be considered conventional in Joe Dombrowski's - or as many know him, Mr. D - classroom.
While Dombrowski had been routinely posting creative, innovative and most importantly, fun ideas to his social media channels he executed in his fourth grade classroom since he began his teaching career, it was one in particular that captured the hearts of 20 million people: the April Fool's Prank seen around the world.
The video he shared connecting to his students through a lighthearted fake quiz with hilariously inventive words (complete with silent letters) left an impact on so many due to the obvious investment of the students, the sheer creativity, humor, and of course, the clear passion of Dombrowski for what he does. In a matter of days the viral video made its way to Good Morning America, had its own "Twitter Moment" and finally, to The Ellen DeGeneres Show.
Ellen DeGeneres promoted Dombrowski's appearance on her show's social media channels by stating, "He may be one of my favorite teachers ever." Once on the show, DeGeneres praised Dombrowski when she said his lessons filled with laughter would make his students not only remember him, but what they were learning. Dombrowski also used his platform to speak about selfless teachers across the country using their own money to create a topnotch education experience.
Upon graduating with a Bachelor of Science in Elementary Education from Central Michigan University, where he was a Featured Student Teacher Spotlight Spring 2012, Dombrowski took up a residency as an improv comedy artist at Go Comedy Improv Theater. His comedic timing and improv studies have translated into the classroom. His teaching approach with humor lends itself to make the curriculum material relatable and less intimidating. He continued this residency through graduation from Oakland University with a Masters in Educational Leadership, High Honors.
Dombrowski has been highlighted on the Kelli Pickler & Ben Aarons Show where he discussed his love for education and humorous teaching style. Dombrowski speaks internationally and enjoys speaking to crowds of all walks of life, helping them reconnect to the joy of life through laughter. Joe tours with his stand up comedy show "Indoor Recess and also hosts his own podcast called Study Hall with Mr.D covering a range of topics. He can be found on Facebook, Instagram and Twitter as @mrdtimes3 and on YouTube as Joe Dombrowski.