Papa Joe Bradford
The inspiration behind the feature-length film: "Unconditional"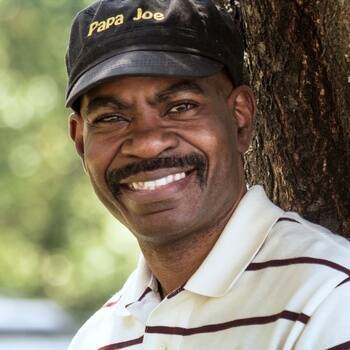 Papa Joe Bradford Text Reviews
His message of unconditional love inspires & uplifts & reminds us that no matter what our circumstances there is always hope. Students trust what he is saying because he is authentic; they know he did not let the tragedy in his own life destroy him.
LaVoe Mulgrew - Head of School - LEAD Public Schools
UHW was truly blessed by having Papa Joe Bradford as our banquet speaker. Papa Joe's true heart came to life when I saw him extend grace to the girls as they asked many unending questions.
Stephanie Curtis - UHW, Inc.
Papa Joe speaking to our students was a landmark moment for our students. He was dynamic and engaging, bringing a smile to every face, and inspiration to every heart.
Daniel Jackson - Lancaster Academy
The thing that stands out about Papa Joe is that he is genuine in his love for children & all people. Papa Joe is an incredible example of someone who not only speaks the truth about love and redemption but reveals it daily with his actions.
Gary Sloan - Sr. Vice President Domestic Operations - Feed the Children
We appreciate the staff at Premiere Speakers for facilitating such a smooth process that enabled Papa Joe to speak at Tennessee State University. It was, indeed, a memorable and empowering presentation.
Chandra, Coordinator of International Student Services & Cultural Programs - Tennessee State University
Papa Joe inspired us to examine our hearts to determine how we, too, can help young people in need. We enjoyed his down-to-earth, transparent, and motivating delivery. His presentation was evaluated very highly by the attendees.
Chandra, Coordinator of International Student Services & Cultural Programs - Tennessee State University
Joe, my staff and I are extremely blessed that you were so inspiring in your message to us. For us to be able to have a living witness, of a life with many challenges, and yet to be so passionate about challenging the lives of others was a charm. I believe our team was given a sure message of hope in moving forward with meeting the needs of children and families. Thank you so much! We are looking forward to our continued connection for the future.
Terris E. Todd ECS Director - Community Action