Devon Harris
Three-Time Olympian with the Original Jamaican Bobsled Team; Helping Audiences Visualize Success with an Olympic Mindset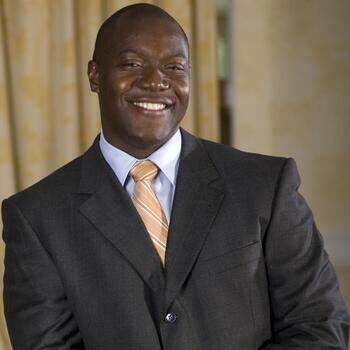 Devon Harris Bio
Three-Time Olympian with the Original Jamaican Bobsled Team and Retired Jamaican Defence Force Captain; Leading Audiences to Visualize Success with an Olympic Mindset
You may not know his name or recognize his picture. Yet his grit and fortitude helped inspire a movie you likely have viewed more than once. The 1990s feel-good blockbuster Cool Runnings sugarcoats the real story behind the original Jamaican bobsleigh team. It introduces four Caribbean islanders recruited to participate in the Winter Olympics. They had not ridden on a bobsled nor even walked on snow, never mind experienced the breathtaking cold of a Canadian mountaintop. The entire world watched, waiting to mock and ridicule them. Instead, the world came to embrace their determination and resilience. Now, nearly 30 years later, Devon Harris - the "Yul Brenner" character in the film - is a widely acclaimed international speaker and mindset-resilient coach.
The story Devon tells is far from a Disney fantasy. He shares his journey of climbing out of poverty, risking personal ridicule and safety to succeed well beyond societal expectations. Devon's story is pulsating, palpable, and awe-inspiring. Most importantly, it's rich in relatable "ah-hah" examples for how to persevere through physical and emotional challenges. Of the many thousands who have heard Devon speak, many have adopted his message to "keep on pushing" as their personal mantra.
Devon draws on lessons from his impoverished and endangered childhood, eight years in the military, and decisively different struggles to three Olympics. We travel with him from Kingston, Jamaica to the Royal Military Academy in Sandhurst England to the Olympics in Calgary, Canada, Albertville, France and Nagano, Japan. Devon's authenticity strikes home with all audiences. Salespeople, engineers, and top executives exit his presentations uplifted, more resilient, and with their inner-winner fully awakened and ready to rise!
When his childhood mates told him he couldn't escape the boundaries of the daunting and depressing Waterhouse ghetto, Devon declared "yes, I can!"
When the British training officers at Sandhurst told him that candidates from his background could never pass enough muster to lead men, he respectfully responded, "yes, I can!"
When the elites of winter sports told his fellow Jamaican bobbers and Devon that they couldn't earn the approval of real winter Olympians, he promised them and himself "yes, I can!"
Defying the odds, Devon did "escape" his destiny of being a prisoner of poverty. In fact, in 2006, he started the Keep on Pushing Foundation to provide supplies, computers, and a breakfast program to his primary school in Kingston so more children could be ready when that rare opportunity knocked. Today, the foundation has expanded its scope to provide practical solutions to enhance education in disadvantaged schools across the globe.
Despite discrimination, labeling, and the low expectations of narrow-minded instructors, not only did Devon impress at Sandhurst, he went on to command over 120 soldiers, received a Queen's Commission, and retired after eight years as a Captain in the JDF.
After literally crashing in front of the world, the Jamaican bobbers finished their first Winter Olympics with a valiant effort that earned the respect of their competitors and convinced a world of skeptics that the tropical island men did indeed belong. Devon took part in two more Winter Olympics and helped create and nurture a Jamaican bobsled program that regularly qualifies for the Olympics!
We all dream. Some of us dream big. But few have the fortitude to overcome the endless obstacles that enable big dreams to come to fruition.
In a very engaging and relatable manner, Devon shares what it takes to find your unique vision no matter what your job or situation is; how to focus, stay on track, and how to persevere past obstacles - get up after you fall and embrace the joy in your noble journey.
Speaker Devon Harris is the author of the motivational children's book, Yes, I Can! and the semi-auto-biographical writings on resilience: Keep On Pushing: Hot Lessons From Cool Runnings.