Dan Thurmon
Show Stopping Performance. Life Changing Message.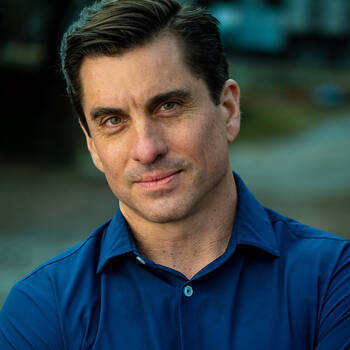 Dan Thurmon Text Reviews
This was the most vibrant reaction to a speaker I've ever experienced inside or outside the corporation.
IBM
Dan has a unique delivery style and absolutely on-point message.
Petrina - Sun Mircrosystems
I've heard from numerous attendees, and I would have to agree, Dan was the BEST speaker we have ever seen.
Planner - Deliotte
Your targeted, well-planned message with an entertaining spin landed the points our team needed to hear, and energized them!
Bob Kubacki - Pella Corporation
Your ability to weave what you learned during our meetings and your trip with one of our consultants in the field really helped build up your credibility with our field staff.
Mark - Chick-fil-A
You challenged us to use our gifts, and to take action when we have the chance. On behalf of everyone who attended, and all 72,000 members of the Raytheon team, please accept my deepest thanks and very best wishes.
William Swanson, CEO - Raytheon Company
Well, once again you knocked their socks off! Your performance goes beyond motivation-you managed to stimulate everyone present.
Jack E. Middleton, CEO - SMC3
The feedback about your presentation has been absolutely outstanding. You were the perfect combination of entertainment, personality with a strong and very relevant message.
Sue Wolk - Nat'l Court Reporters Association
After hiring you three times, I manage to still find tremendous nuggets of wisdom to take away from your exhilarating presentations.
Reed A. Lynn - WILD Flavors, Inc.
If you want to motivate, inform, educate, entertain and deliver a presentation that your team will not forget... by all means pick Dan Thurmon to 'deliver the difference' for you.
Ken Myers - President, Romacorp, Inc.
Dan was incredible! The managers, staff, and owner-operators couldn't stop talking about the session. The juggling, unicycle, acrobatics and the handstand on the podium were all tied to the learning. It was a home run!
Jim Mulcahy, Traning Director - McDonald's
Wow! People still stop me in the hall to tell me what a wonderful job you did. Far and away, your presentation received the highest ratings ever!
Bryan Kindred, CEO - DCH Health System
Your ability to put such a positive spin on something like multitasking - which many people dread - is a testament to your skill and ability.
Miki Wilson, Regional VP - AIMCO
Your presentations at our eleven 'In Focus Events' delivered an important and inspiring message, unlike anything our dealers have ever experienced.
Blane Haywood - Shaw Flooring Alliance
Your presentation was OUTSTANDING and it really helped us start our week on a positive note. All of our attendees have said how much they enjoyed your session - it was informational, motivational, and FUN!
Sarah Wegner, Director of HR - Drury Hotels
Dan Thurmon was, by far, the highest rated aspect of our conference, based on attendee survey results. His presentation was inspirational, energetic, and captivating.
Scott Frymire - Activant Solutions