Consuelo Castillo Kickbusch
Army Veteran, Author, Motivational Speaker, Educator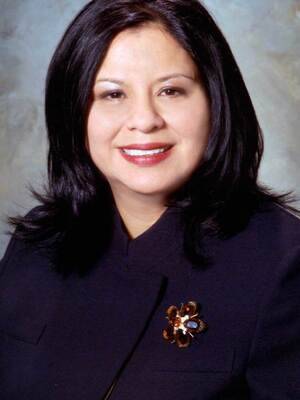 Consuelo Castillo Kickbusch Bio
Consuelo Castillo Kickbusch is a renowned charismatic, passionate and influential speaker who carries her powerful message of what it takes to be an effective leader in today's global marketplace to hundreds of schools, colleges/universities, corporations, and government institutions, both in the U.S. and abroad. For the last ten years Consuelo has dedicated her life to empowering a new generation of Hispanic leaders and has worked with over one million children and their parents across the United States through Educational Achievement Services, Inc. (EAS), a company she founded in 1994.
Born and raised along the border in a small barrio in Laredo, Texas, Consuelo Kickbusch is all too familiar with the challenges of poverty, discrimination and illiteracy. Although she grew up without material wealth, she learned through valuable lessons taught by her immigrant parents that she was rich in culture, tradition, values and faith.
The values she learned as a child were reinforced throughout her career in the U.S. military. After graduating from Hardin Simmons University, Consuelo entered the U.S. Army as an officer and served for two decades. During that time, she broke barriers and set records in the military where she became the highest-ranking Hispanic woman in the Combat Support Field of the U.S. Army. When the opportunity to assume a command post arose, LTC Castillo Kickbusch shocked the military by deciding to retire. She chose to honor her mother's dying wish to get back to her roots and become a community leader. In 1996, Consuelo Castillo Kickbusch retired from the military and dedicated her time to operating Educational Achievement Services, Inc. and fulfilling her mission of preparing tomorrow's leaders today.
Because of her strong dedication to saving the youth of America living under similar circumstances as she did as a child, Consuelo has worked with more than one million children, their parents and educators, in the roughest neighborhoods in America, covering 43 states. She inspires these young "diamonds in the rough" by encouraging them to believe that they can all make their dreams come true--to not give up hope, but rather to take charge of their lives and make a real difference in their families and communities by following a disciplined road map to success.
As trademarked tools to reinforce her messages, Consuelo produced two videos titled " Porque No-Why Not?" and "Journey to the Future." Additionally, she published a book titled Journey to the Future: A Roadmap for Success for Youth which provides practical techniques for children to develop higher self-esteem, achieve their person goals, as well as provide them with a framework for early leadership development.
In 1998, Consuelo Kickbusch and a team of educators created the Family Leadership Institute (FLI)--a multi-faceted educational program focused on providing immigrant/migrant Hispanic families with knowledge, tools and inspiration to help their first- and second-generation children success in school and in life. In the past four years, the Family Leadership Institute, a branch of EAS, Inc., has graduated approximately 800 Hispanic and multicultural parents in five states.
Consuelo's dedication to the youth of America has garnered her numerous awards and citations from educational institutions, government agencies, professional organizations, as well as the national media. She is a recipient of the Legion of Merit, the National Defense Service Medal, four-time recipient of the Meritorious Service Medal and the Toastmaster's Leadership Award. In 2005 she was honored with the prestigious National Mujer Award by the National Hispana Leadership Institute (NHLI). Also in 2005, Consuelo received the Society of Our Wise Women Award from Bennett College and has been appointed to their Board of Trustees. In the national media, Consuelo Kickbusch has been profiled on the Lifetime Network, National Public Radio, O Magazine, the syndicated television program "Hispanics Today," Hispanic Business magazine's "100 Most Influential Hispanics in America," LatinaStyle, Vanidades, and Glamour. Features on Consuelo Kickbusch have also appeared in English and Spanish language newspapers across the country. In the book, "Mustang Sallies: Success Secrets of Women Who Refuse to Run with the Herd," Fawn Germer lists Consuelo Castillo Kickbusch among other women "who've got the brains, the guts, and the drive to change the world..."
In addition to her work with American youth, Consuelo Kickbusch consults and serves as a featured motivational speaker with corporations and government agencies to develop the leadership and peak performance of their employees. She firmly believes that businesses need strong leaders and a talented, diverse workforce in order to compete successfully on the global stage. Her clients include Wal-Mart, State Farm Insurance, Ford Motor Company, General Motors Corporation, Costco, Sodexho, Dell, Boeing, Nordstrom's, Lockheed-Martin, National Association of Women in Law Enforcement, the National Football League, Avon, IBM, Verizon, the Cities of Dallas and San Antonio, National Hispana Leadership Institute (NHLI), U.S. Postal Service, U.S Drug Enforcement Agency, National Association of Hispanic Realtors, Department of Education, and NASA-Ames Research.
Consuelo Castillo Kickbusch currently resides in Las Vegas, Nevada, where she remains a loving and supportive wife to her husband, LTC (Ret) David Kickbusch and mother to her five daughters.