Colette Carlson
Hall of Fame keynote speaker and human behavior expert who transforms relationships through the power of connected conversation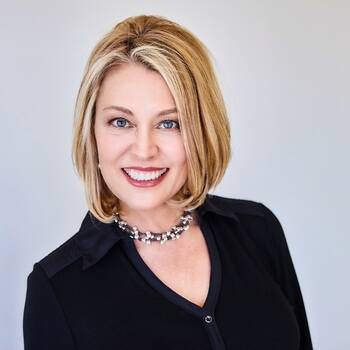 Colette Carlson Text Reviews
Colette is an amazing speaker! She did a keynote for 2300 franchise owners, general managers, and managers and a breakout session for 1500 general managers and managers. She did a great job researching our business and sharing stories and examples that the participants could relate to. The participants found her funny and insightful. The vast majority of the participants rated her as "Excellent!" She was also a delight to work with in planning the conference as well as on-site. I highly recommend Colette as a speaker!
Lora Peterson, Director, Learning & Development - Great Clips
Colette is a truly world class keynote speaker. Her message and ability within the presentation to connect with our audience of Ninety Nine Restaurant & Pub leadership was extraordinary. I was impressed by her preparation prior to the conference which was evident in the relevance of her material woven through her time on stage. The feedback was universally positive with many referencing elements of the presentation throughout the rest of the conference. I highly and wholeheartedly recommend her!!!
Craig Barber, Chief Executive Office and Board Member - Restaurant Growth Services, LLC
Colette provided a keynote speech to our organization (AIMSE) at our 42nd annual conference to an audience of more than 350 investors, investment consultants and sales and marketing professionals. She inspired us with her message of connecting more and transacting less. Colette helped us to see the power of listening, engaging and reducing stress as we work with our clients to help them meet their objectives. She spent many hours speaking with the conference chairs and organization members in advance of the conference to understand our lingo, the day-in-the-life, and how we wanted to hone her message for our audience and event. She is a true professional and gifted speaker, delivering her message with hope and humor, poise and grace. I recommend her highly, she is a terrific person.
Tony Buscemi, Partner - Gallatin Capital LLC
Colette recently spoke to our team about the importance of relationships and how to better cultivate and manage them. She had her work cut out for her - she was asked to present via Teams and it was a mixed audience including sales, engineering, department heads and senior management, and yet she found a way to deliver a message that resonated with the entire group. Everybody took something from her presentation. Leading up to the event, she did her work with pre-calls, email and text exchanges to ensure she understood our business, culture and challenges. She was engaging, relatable, high energy and an absolute professional. I enthusiastically recommend her as a speaker if you are looking for someone to deliver a message with lasting impact.
Michael Newcome, Vice President of Sales - JLS Automation
Rarely do I sit in front of a speaker and time disappears and I lose attention of all things around me becoming deeply engrossed in the moment. Occasionally I take notes but never like this. I scribbled notes non-stop for an hour. After Colette finished speaking all I could think about is I need to take personal inventory of myself, some of my habits, my way of approaching people and issues, and reevaluate some frozen perceptions of why I do what I do. Colette captured, and I mean captured, our team's attention and met them right where they were at. When the keynote speaker is the main topic at breakfast the next day you know you nailed it. She was funny, intelligent, on point, captivating and relevant. We did not expect this level of engagement and we were not disappointed. Thank you again Colette!
Daniel Smith, Chief Operating Office - Hopdoddy Burger Bar
We hired Colette Carlson to keynote our annual employee conference. Our team feedback was that she nailed the keynote! Colette had the right balance of passion, content, and humor while delivering a powerful message on the value of connecting when communicating. She invested time to understand our organization by connecting with our leadership team and learning about our culture transformation journey. Colette's ability to connect and understand us as a client, set her apart from other keynote speakers we have had in the past. Colette walked the talk and connected with us in her preparation and her presentation to deliver a high impact keynote. We cannot thank her enough for the positive contribution she made to our employee's experience at our annual conference!
Michele McClelland, SPHR, Chief People and Engagement Officer - Lakeshore Management
Colette delivered two keynote addresses at our National Sales Meeting, one on sales and another on staying resilient. I'm not quite sure which one resonated more with our team- they were both exceptional! I have hosted and attended sales meetings for over 3 decades, Colette's presentations were the best. Colette was able to connect with our Account Executives on an entirely different level than other keynote speakers with ALL in attendance feeling that Colette was talking directly to "them". This connection was the result of Colette working directly with me and others within our organization to understand our culture, sales strategy, differentiators and customers. Colette was able to seamlessly incorporate many of these points into her keynote. I would highly recommend Colette as a keynote speaker at your next sale meeting,
Greg Wittlinger, Vice President Sales - MDC Wallcoverings
Purina's Women Leaders Forum hired Colette to speak at our International Women's Day event this year and we were thrilled with the response from our audience members! Colette spent time getting to know our corporate culture, and delivered custom content that really resonated; her stories were funny, poignant, and insightful. Our audience consisted of men and women from all levels of the company, and every single person took something meaningful away. Colette was a great investment - hire her if you're looking for inspiration!
Leah Cleary, Product Innovation Marketing Owner - Purina
Colette was the keynote speaker at our annual meeting this year. Our group is a team of 75 seasoned consultants who spend a significant portion of their waking hours supporting clients in transformative and stressful situations. Ahead of her session, Colette made sure to speak with selected members of the team to understand our circumstances, gain familiarity with our vocabulary, and customize her talking points to address our needs. This attention to our specific situation led to a highly effective discussion. The event itself was high energy, engaging, and impactful (I did not see anyone looking at their phones). Following the session, I was approached by many team members who reflected on the applicability of the content and the high energy way Colette delivered the message. I am happy to recommend Colette. She is now part of our extended friends and family.
Jeff Shaffer, Managing Director - Alvarez & Marsal
Colette was a huge hit at our Leadership Series, and people are still talking about it. We were all so impressed by the way she researched and got to know us. As a result, she nailed it, gained immediate credibility and connected with everyone! Colette was knowledgeable, relatable and down to earth what more could you ask for. Colette was a huge hit at our Leadership Series, and people are still talking about it. We were all so impressed by the way she researched and got to know us. As a result, she nailed it, gained immediate credibility and connected with everyone! Colette was knowledgeable, relatable and down to earth what more could you ask for.
Donna Sanders, Employee Engagement Manager - Confluent Health