Chris Roebuck
Delivering success in a challenging world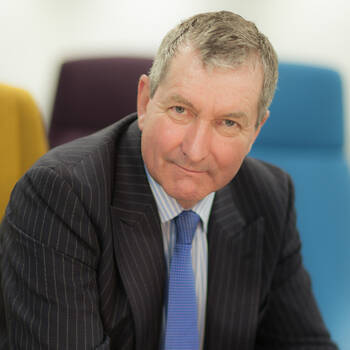 Chris Roebuck Bio
Seeing many leaders and organisations failing to deliver what they need to - with up to 70% of initiatives failing to be fully and successfully implemented according to many leaders - Chris Roebuck, based on his unique experiences and approach, developed an innovative and highly effective approach to delivering success more effectively and more often in any organisational area ; "I CARE" Leadership. This enables leaders escape the "mechanical" leadership trap that often causes failure and use a more effective "human" approach that is proven to deliver success simply and quickly using their existing experiences. This founded is on Chris unique experience built up over 35 years by:
Having successfully developed leaders and leadership in major global organisations so they could achieve success both personally and for their organisation. His work as Global Head of Leadership at UBS is part of a Harvard Case Study.
Having worked with small and medium sized organisations, in the government and commercial sectors.
Knowing they key evidence of what delivers success as Visiting Professor of Transformational Leadership at the respected Cass Business School in London
Serving as a military officer and having personal experience of inspiring people in even the toughest environment via a "serve to lead" ethos.
Learning the leadership secrets of the worlds leading CEOs who are interviewed by him that he passes on to audiences.
Chris unique, simple & practical approach to leadership combines entrepreneurial, engaging, ethical and effective leadership. His focus is not on theory but on what really works day to day for real leaders in the real world to achieve success. Through his Masterclasses, keynotes, advisory work, mentoring, writing and media he enables individuals and organisations to achieve more of their true potential.
Chris breadth of experience in terms of function, sector, business model, culture and geography ranges from holding held senior roles in UBS, HSBC, KPMG & London Underground to advising the UK National Health Service 1.4m staff, and UK Government to the Red Cross in Myanmar, Investment banks in London to Middle East Telecoms and energy, the Chinese Space Programme to retail in USA. Functionally from Project Managers to HR Directors, from Chief Risk and Legal Officers to Finance Directors, across the globe in Beijing, New York, Chicago, Moscow, Dubai, London, Rome, Singapore, Rangoon, Athens, Helsinki, Copenhagen, Stockholm, Zurich, Kuala Lumpur, Chennai, Calcutta, Oman and Hong Kong.
When Global Head of Leadership at UBS, 70,000 staff & 100 countries, his team helped the bank transform organisational performance to boost profitability and market capitalisation and win awards. The initiative is now a Harvard Business School Case Study of transforming an organisation through aligning people to success.
Chris has been quoted as a leadership expert globally in the Harvard Business Review China, Financial Times, Wall Street Journal, Le Monde, New York Times, Business Week, Chicago Tribune, Time Magazine, Washington Post, Times of India, Straits Times, Gulf Times and many other titles. He has also been interviewed over 250 times globally on leadership issues and events by BBC channels, Sky, Bloomberg, Al Zazeera, Russian TV, ITV, CNBC, CNN, Asian News Channel, Voice of America, to a total estimated audience of over 5 billion.
His book "Lead to Succeed", published has been described as "Truly great", "A BREAKTHROUGH", "Superb", "Inspiring 'must read'", "A masterful guidebook", "A great guide to success", "An excellent insight".