For everything, there is a season. A time for everything (Ecclesiastes 3:3-4). A time to tear down and a time build. A time to weep and a time to laugh. I might add, there is a time to lose and a time to gain. I've lived long enough to know that's also true.
Sometimes we tear down because it's necessary to rebuild. Tearing down gives a place for something new. Sometimes we weep during our times of loss, which makes room for laughter when we get through it. Weeping for a season is necessary to grieve our losses. In either scenario, we experience loss and make room for something new.
Loss expands our heart for something more, maybe even something grand.
The year 2019 was a year of gains, laughter, and something new for me. It included writing and releasing my book – The Secret Lies Within. I was full of joy.
I could not have room for the joy, however, if I had not experienced losses in previous years.
I made room for more because losses and grieving left me feeling empty.
Most people look at loss and see it as heavily imbedded in negativity. Taking a step back during a loss is hard to do, but if you can, God will open your eyes to so many new opportunities.
Through loss, God creates so much room to grow.
A story from my past will illustrate how God took our losses and made room for something so big we never saw it coming.
The year was 1987, and we had enjoyed ten years of living in Texas. We had worked through and overcame our "darkness of the soul."
We survived the years of a silent marriage and had recovered from the spiritual darkness of it all. Jonas and I both felt like we had survived the very onslaught of satan.
Feeling confident and comfortable with our new life together as a family, we were ready to settle into our home in Texas. We had no plans to leave.
We didn't want to return to our community in Pennsylvania, because going back would mean we would have to face things that were too hard. We left Pennsylvania years earlier during a time when everything fell apart for us. We experienced Angela's death, the abuse of my pastor, and watched the church we built and loved split my family apart.
Staying away was safe and kept me from looking at the damage done to my family.
We loved Texas, and we're many years into our recovery as a family. We felt God's Grace and full redemption. We were living our dream.
We had enough money to pay our bills and lived in a home that I loved. We were a family again and involved in a vibrant church. This life was as good as it ever was for us.
That changed when the business Jonas worked for was sold. His income was cut in half, and we were in financial trouble.
We knew the cut in pay would mean we would have to put our house on the market.
During that same time, the oil industry went bust and houses in our neighborhood, and the surrounding areas went dark. People were moving out and not informing the banks. They just packed up and left.
We started thinking about our options because selling our house was nearly impossible because of the economic situation. As we prayed about it, we both felt like God was directing us back to Pennsylvania.
I went to work waitressing for a couple of months to help with the expense of the move. We eventually went to our bank and let them know we would need to leave the area.
The bank repossessed our home, which was a significant loss for us. In the end, we had enough cash to get us back to PA.
Our loss felt so heavy!
The one good part of this loss was that my two sisters and their family lived in the same neighborhood and also felt led to move back home.
We had not discussed it as a group until one night while we were together, each one of us announced we're moving back to PA! We were all surprised as we discovered each other's plans.
We've always done things together. We all moved to Texas at the same time tens years before, and now we're all moving back to PA.
We were all happy that no one would be left behind.
We set the move date, and all three families packed our collective worldly goods in one semi-truck.
On our drive back, we began to talk about what God may have planned for us. We began to dream. My husband, Jonas, described his dream to me, which was so big I laughed about it.
He responded by saying, "Hey, ALL things are possible."
I then slapped him on his knee and said, "If God wants to do what you described, then He will have to do something very big for us."
Knowing we had no job, no home, and no money when we got to PA felt like we were at a dead-end street.
We arrived in PA with $25 to our name but knew we would get by. We unloaded our belongings last because we didn't know where we would live when we got there.
My brother Jake graciously offered to let us stay in a trailer he had on his property. If Jonas could renovate it, we could stay there rent-free. We were ecstatic. We had a place to call home.
We settled in as best we could, and I found a job managing a market stand, and Jonas worked for his Dad two days a week. He spent the rest of his time studying and offering free counseling for couples in need.
Our loss in Texas continued to help me discover more.
Managing anything other than my family was a new experience, but to my surprise, I loved managing the market stand. I had no idea I was even capable.
Seven months after our loss in Texas, we bought and owned our very first business. Auntie Anne's Pretzels was born, and the rest is history.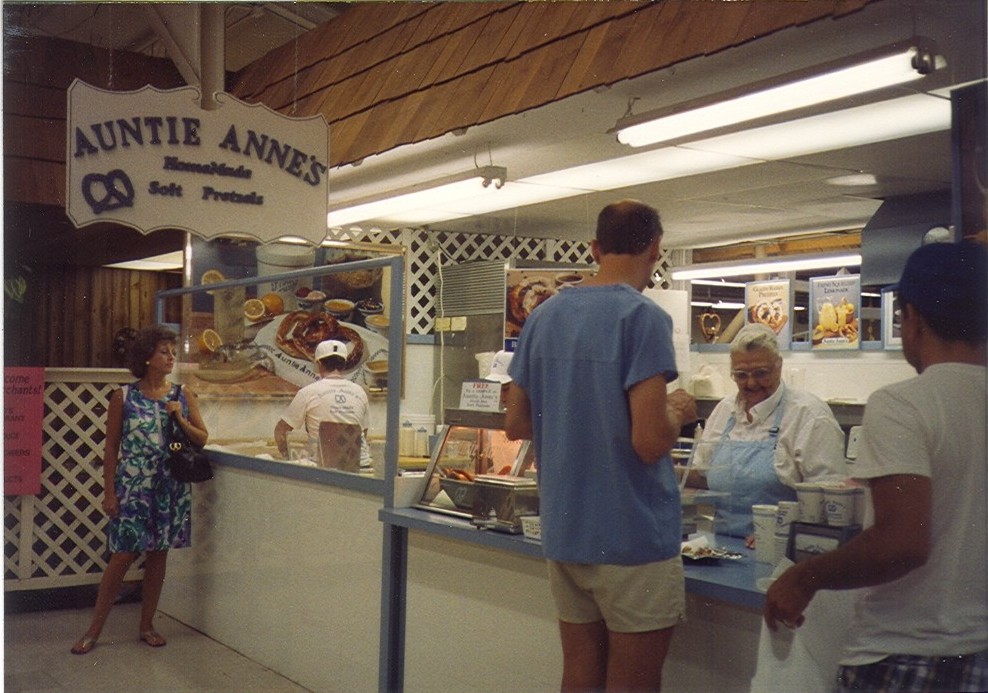 As you can see, our loss created the capacity for more.
There are many different kinds of losses, and starting over after loss is NEVER easy.
Sometimes you lose a job, marriage, health, friendships, and homes – to name a few.
Most of you have experienced loss, and in the process, you may have lost yourself.
In my experience, losing myself was the most significant loss of all because I lost the will to live, hope, and dream.
Even that loss gave me the capacity to understand others and be compassionate.
Losing myself made room for me to experience the world of compassion. I have more now because of my loss.
God gave us so much more than we lost and grew Jonas and me emotionally, spiritually, professionally, and financially.
IT'S TRUE. You can start over after loss.
God will help you through and then give you the capacity for more.
The post Learning To Grow After Loss appeared first on Auntie Anne Beiler.
Want Auntie Anne Beiler for your next event?
Find out more information, including fees and availability.
Find Out More
Keep Reading
For everything, there is a season. A time for everything (Ecclesiastes 3:3-4). A time to tear down and a time build. A time to weep and a time to laugh. I might add, there is a time to lose and a time to gain. I've lived long enough to know that's also true. Sometimes we tear down because it's necessary to rebuild. Tearing down gives a place ...
Read More